Storm by Evan Angler
Welcome to my stop on the Shadow Chaser blog tour hosted by YA Bound. Click HERE to see the full blog tour schedule!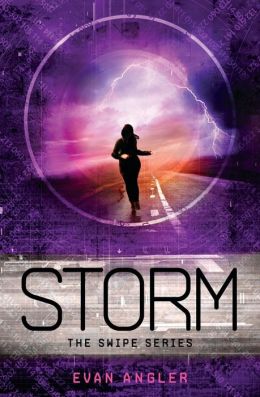 Storm
(Swipe #3)
by
Evan Angler
Release Date: 05/07/13
Thomas Nelson Publishers
Paperback/e-book
288 pages
Summary from Goodreads:
In a future United States under the power of a charismatic leader, everyone gets the Mark at age thirteen. The Mark allows citizen to shop, go to school, and even get medical care--without it, you are on your own. Few refuse to get the Mark. Those who do . . . disappear.

Logan Langly went in to get his Mark, but he backed out at the last minute. Ever since, he's been on the run from government agents and on a quest to find his sister Lily, who disappeared when she went to get her Mark five years earlier. His journey leads him to befriend the Dust, a vast network of Markless individuals who dissent against the iron-grip rule of the government. Along the way to the capital to find Lily, the Dust receive some startling information from the Markless community, opening their eyes to the message of Christianity and warning that humanity is now entering the End of Days.

In "Storm," Logan and his friends are the leaders of the Markless revolution. But while some Markless are fighting Chancellor Cylis' army, the Dust is busy trying to find a cure for a horrible epidemic sweeping through the Marked. And it's difficult for them to know who to trust, especially when they aren't sure if Logan's sister Lily, one of the commanders in Cylis' army, is on their side or not. And all across the nation--and the world--the weather is become less stable, and a storm is brewing that bigger than any of them could have ever imagined....

When I found out about this blog tour, I jumped at the opportunity. Why? I'd previously read Sneak (the second book in the series) before! You can read the review here. I was interested to know how the story would progress, so of course I immediately signed myself up for this blog tour!
I loved how the title fits, how it is related to the story. There are books where the titles don't match the content of the story, and I'm glad this wasn't one of them. That having been said, I also love how all the books in the series had their titles starting with 'S'. It was a little thing about the series I liked as a whole.
In my review of Sneak, I had unfavourable opinions of the character Erin Arbitor. However, in this book, I found that Erin was a confident, strong girl instead, through Angler's effective characterisation. Speaking of characterisation, a low point in the book is that I really could not visualise the age of the protagonists. I kept thinking that Logan was 17 or 18 at least, when he was a good 5 years younger than that. The Dust seemed to me to be a bunch of hyper-active children too, instead of people about the same age as Logan or Puck.
Despite this, Angler has done a really good job with twisting the story around. In one moment, you could be thinking one person is the enemy, but then, Angler persuades you to believe that another person is the enemy. Angler has planned this book really well, with all the plot twists.
Lastly, I really can't believe the ending! It was unexpected, and really worth reading the book for. The complexities of characters that drew the ending to be the way it was... Just fabulous!
Storm receives a 3.5 stars out of 5 from me. I found it engaging and interesting, as well as easy to pick up after the second book. People should pick up this book, especially if they're into sci-fi! It has so many twists and turns, you're forced to keep on reading, just to find out what's going to happen next!
Keep reading and loving books,
_________________________________________________________________________________


Want to buy it? Here are the links:
Amazon│Barnes & Noble
Evan lives without the Mark, evading DOME and writing in the shadows of Beacon.
Swipe is his first book. But if anyone asks, you know nothing about it, and you didn't hear anything from him. Don't make eye contact if you see him. Don't call his name out loud. He's in enough trouble already.
And so are you, if you've read his book.

Website│Goodreads│Twitter│Facebook

***GIVEAWAY***
Print books 1-3 in the Swipe series, US only.
a Rafflecopter giveaway